Jenny's All Electric Cleaners are very easy to operate. All of the controls are mounted in the electrical junction box in full view of the operator. They include: Motor Switch, Heater Switch, Steam/Pressure Selector Switch and Temperature Thermostat.

All of the electrical controls are located within the electrical junction box. The water system is easily accessible and is centrally located in a manifold. Coil panels were designed to be replaced quickly and easily. As with all Jenny machines, parts and accessories are readily available.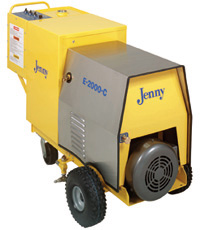 Quality is the trademark of Jenny cleaning equipment since steam cleaning was invented by us in 1927. These American made machines are manufactured using the finest available pumps, motors, and electrical components; the best manufacturing methods and techniques; and backed with 70 years of cleaning equipment experience.

The machine's electrical heating system has been proven over 30 years of cleaning. Both the motor and pump are industrial grade and will give years of trouble free service.

The main chassis is manufactured from 10 gauge steel, so the machine can withstand many years of rugged use in industrial/commercial applications.
The all electric machines can help produce a healthier work environment and a "Clean Air Plant". They eliminate open flames, odors, air born particles, and fossil fuel emissions. Designed to help meet the Clean Air Act, EPA and OSHA plant requirements.