Jenny Combination Units feature simple easy to use controls. The switches to control the Motor, Burner, and Steam Clean/Pressure Wash are in plain view and are lighted to display the machine's status. The switches will glow Red in the Off position and Green in the On position. Switching modes from Pressure Wash to Steam Clean is as easy as changing both the tip in the end of the gun and flipping the machine selector switch.

Convenient access to all of the major system components was designed into the machines. The large electrical junction box houses, protects and allows for access to the entire electrical system. All electrical connections are made through a simple specially designed terminal board. The pump, motor, water and solution control systems are all centrally housed underneath a large stainless steel cover. Parts and accessories are readily available.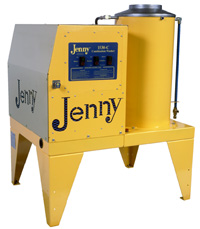 Quality has always been the trademark of Jenny cleaning equipment since we invented steam cleaning in 1927. Designed and manufactured in our state of the art facility, we use only the finest available pumps, motors, electrical and gas components. Each piece of cleaning equipment is thoroughly tested to guarantee that it will pass our rigorous quality standards.

Only the highest-grade components are used in the construction of the equipment. The industrial heavy-duty motor drives the high performance, belt driven, oil bath, triplex, ceramic plunger pump. The combustion system was specifically designed for Natural and LP gas applications. It features a specially designed natural updraft combustion chamber, heat transfer coils and gas control valves. A unique electronic ignition system is standard to all gas fired units. It lights the gas pilot when the motor is turned on and remains on as long as the motor runs. This allows for instant main burner ignition when heat is required.

The frame is a rugged, powder coated, modular chassis specifically engineered for the gas-fired machines and features a 5-year limited warranty. All components such as the stainless steel float tank, coil casing, back panel, and the front panel are bolted to the chassis.
A long list of safety features that are standard on all Jenny units include: 24 Volt Intrinsically Safe Control Voltage, Nozzle (or Trigger Gun) Control, Over Pressure Protection, High Temperature Protection, and a Ground Fault Circuit Interrupter (Single Phase Units Only).