The units were designed to allow for easy access to all of the machines major components. The burner and pump are both easily removed with a couple bolts and fittings. The air and fuel components are located underneath the pump for easy access. The electrical system is located within a large, easily accessible electrical junction box. All of the electrical connections are made at a specially designed terminal board. The water control system is centrally located on a manifold block assembly inside the main chassis. As with all Jenny machines, parts and accessories are always readily available.
Quality is the trademark of Jenny Cleaning equipment since we invented steam cleaning in 1927. These American made machines feature only the finest quality components available using only the best manufacturing techniques and methods. This coupled with our vast steam cleaner and pressure washer engineering and design experience ensures that the HPW units are of the highest quality available.

In manufacturing these machines, we use only the finest available components. The main drive system is either an industrial grade electric motor or a High Performance OHV gasoline engine. The pump is a high pressure, belt driven, oil bath, ceramic plunger pump. At the heart of the combustion system of all Jenny Oil Fired units is our specially designed Twin Fire Modular Gun Burner System.

The heavy-duty, powder coated, 10 gauge steel, modular chassis was designed for years of rugged and punishing use and features a long, low, sleek profile that can fit through a commercial doorway. The chassis also features a 5 year limited warranty. All components such as the coil casings, stainless steel float tank, fuel tank, optional solution tank, back panel, and front control panel are bolted on to the chassis.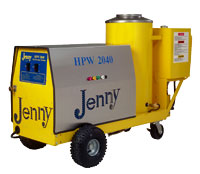 All Jenny HPW units come standard with a 24 Volt Intrinsically Safe Control Voltage System. They also feature as standard: Nozzle (Trigger Gun) Control, Over Pressure Protection, High Temperature Limit Protection and a Ground Fault Circuit Interrupter (Single Phase Units Only).