Jenny's Hypressure Series of Cold Pressure Washers are very easy to operate. Simply connect the unit to a water supply, connect the quick coupled cleaning gun and hose, plug the unit into the proper electrical power supply, turn the unit on, and begin cleaning. It's that easy!

The units were designed to allow easy access to all of the major components. Pump oil changes are simple and quick as is lubricating the electric motor through two conveniently located grease fittings. Cleaning the high capacity inlet water filter is as simple as unscrewing the cartridge, emptying it out and replacing it. As with all Jenny machines, parts and accessories are always readily available.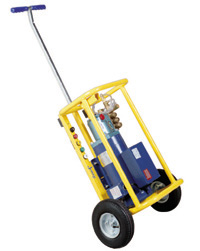 The trademark of Jenny Cleaning Equipment has been quality since steam cleaning was invented by us in 1927. These American made machines feature only the finest pumps, electric motors, and accessories available and the best manufacturing methods and techniques. All Jenny machines are tested to ensure that they perform to our exacting standards and specifications.
In manufacturing the machines, only the highest quality components are used to ensure years of trouble free service. The industrial grade pumps used on the units are all triplex ceramic plunger pumps, constructed of the highest quality materials under very tight tolerances assuring long term performance. They are also protected from both extreme pressure and temperature conditions by specifically engineered safety valves. The heavy duty industrial motors are American made and designed to last for many years.

The heavy duty powder coated roll cage frame was designed to be compact, portable and able to withstand years of rugged and punishing use. The maneuvering handle folds inward to allow the unit to be more compact and protect the electric motor. The solution container holder folds inward to protect the pump. The electrical switch and motor combination features thermal manual overload protection and simple on/off switching. The unit comes complete with pneumatic tires with ball bearing hubs, wheel brake, built-in easy mount hose reel adapter, and a convenient nozzle holder with four different color coded pressure nozzles and one soap nozzle.