All the components and systems of the machine are readily accessible to make servicing the equipment simple and quick. The electrical system is housed in a large junction box and features a specially designed terminal board for all the electrical connections. Simply by removing a stainless steel cover the entire water, pump, and drive systems are exposed for ease of service. As with all Jennys, every machine is thoroughly tested to ensure it will pass our exacting test procedures.

The hallmark of Jenny Cleaning Equipment has always been quality since we invented the steam cleaner in 1927. We use only the finest pumps, motors, and controls available on the market for use in manufacturing our equipment. This along with our vast engineering and design experience ensures that the HPW Units are the finest available on the market.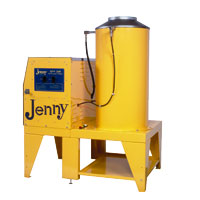 Our long tradition of producing highly reliable equipment continues by the use of only the finest available components and manufacturing techniques. The combustion, heat transfer and control systems are specifically designed for Natural or LP gas service. The electronic gas ignition system is unique and standard on all gas fired units. The pilot is lit when the motor is switched on and remains on as long as the motor runs. This means instant ignition when heat is called for by the operator.

The specially designed gas fired modular chassis is made from 10 gauge material then powder coated and features a 5 year limited warranty. Components such as the float tank, coil casing cover, and machinery cover are stainless steel and like all the other parts, are bolted onto the chassis.

All the Jenny HPW gas fired units come standard with the following features; 24 Volt Intrinsically Safe Control Voltage, Nozzle (or Trigger Gun) Control, Over Pressure Protection, High Temperature Protection, a Ground Fault Circuit Interrupter (Single Phase Units Only), 0,15,25,40 Degree High Pressure Nozzles, and 50 Feet of 3/8" Quick Coupled Hose.